Earlier this year, we met with Caroline Brocklehurst, retail staff member and customer of Silverburn, to discuss ways to improve the shopping experience at Silverburn for shoppers with illnesses such as Crohn's & Colitis.
We are proud to have recently installed 'Not every disability is visible' signage here at Silverburn advance of in support of all customers and staff who have invisible disabilities.
Read Caroline's story below.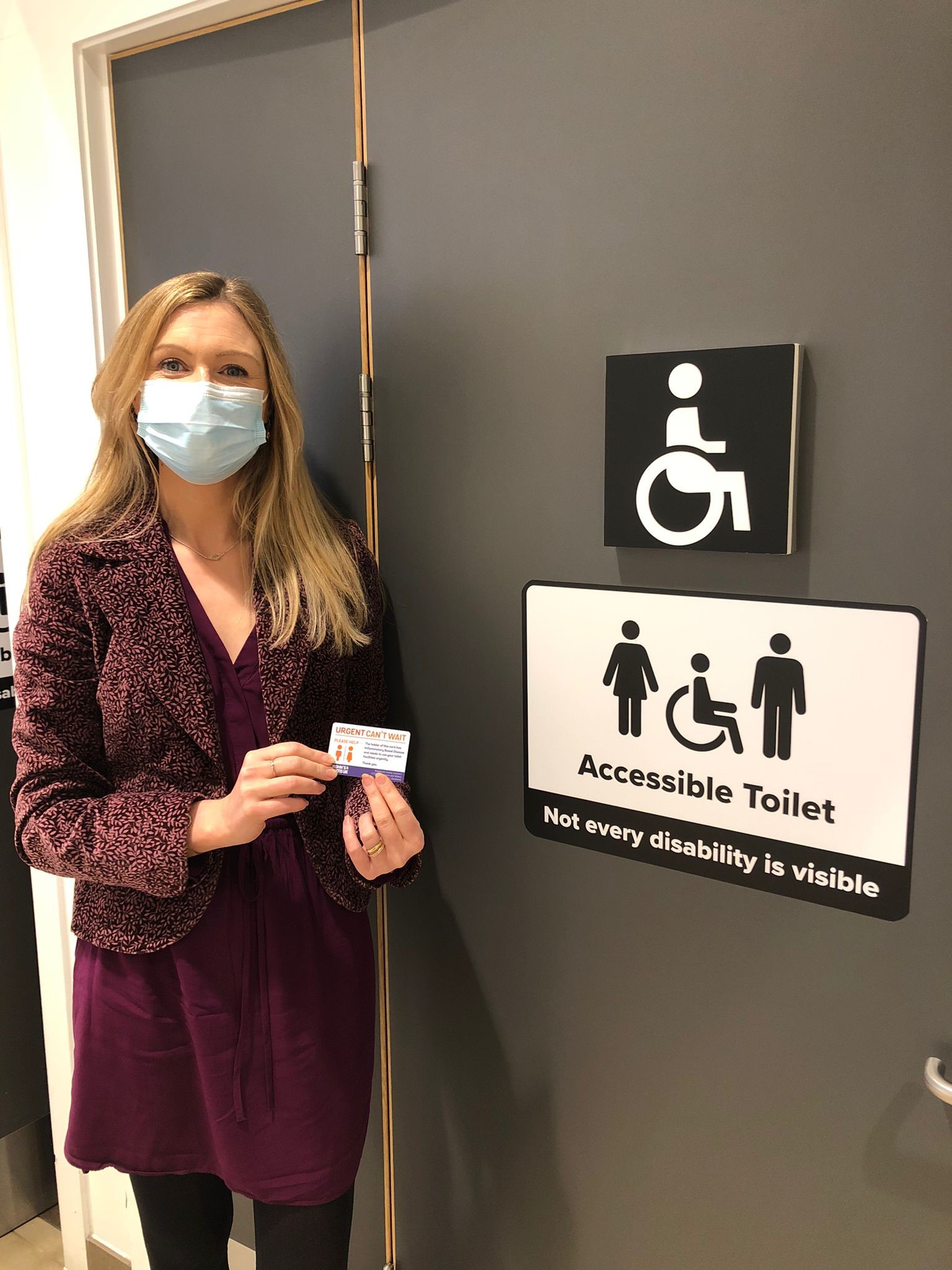 Caroline pictured with her 'Can't Wait' card – another great initiative to help break the stigma surrounding bowel disease.
My name is Caroline Brocklehurst, retail staff and customer of Silverburn.  I was diagnosed with Crohn's disease 12 years ago.  Crohn's is an incurable lifelong condition of inflammatory bowel disease which causes painful inflammation and erosion of the digestive track and often causes disease outside of the bowel too.  Diseases such as these can really hamper people's quality of life (physically and mentally), their career prospects, relationships, education and more.  Lack of support and stigma only adds to their suffering.
I've committed to improving awareness, breaking down taboo and fundraising to try to improve the lives of fellow patients with diseases such as mine and all others with invisible disabilities.  I've been volunteering with a number of charities such as Crohn's & Colitis UK and the Catherine McEwan Foundation to support their amazing work in a number of areas to improve patient's lives.
Patients can suffer a myriad of debilitating symptoms, and many require powerful treatments with risky side effects and often surgery. Like many other conditions, urgency in toilet use is often one of the stressful requirements of patients.
I very recently required surgery and because of my diagnosis was advised there was a risk I might come round from the anaesthetic to find that I had a stoma bag, which is something that many patients with diseases such as mine live with.  This further drove home to me how important it is to break the stigma around toilets and improve awareness that not every disability is visible.
Shockingly around half of patients surveyed have received negative comments for using accessible toilets and I'm delighted that Silverburn has been so enthusiastic about working to support customers and employees with invisible disabilities.  The new accessible toilet signage is such a great step in this strategy.  Over 80% of patients felt more comfortable visiting places with the signs, so it's a real way to make shopping and working in Silverburn an inclusive space.