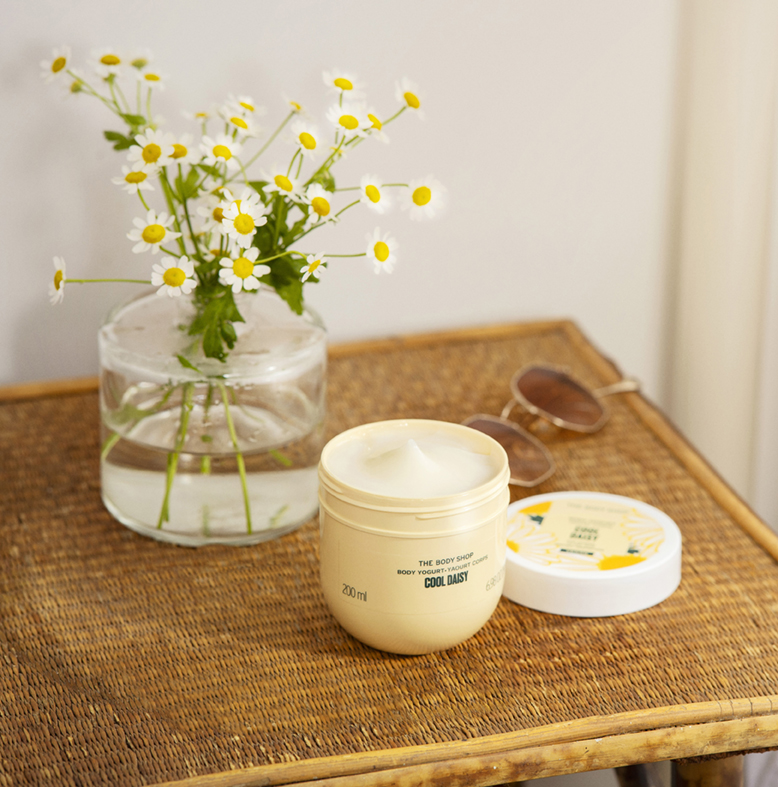 It's finally time to start thinking
about summer. Lazy days,
beautiful blooms, juicy berries
and sunshine.
So, to get you in the mood, The Body Shop has
launched two new vegan summer special edition
body care ranges – floral and refreshingly scented
Cool Daisy and juicy and tangy Fresh Raspberry.
Meet your summer's MVBP (most valuable
beauty products).
Each treat in the range is enriched with
nourishing raspberry seed oil or fruit
extract. Scrub and nourish normal to dry
skin, with a fruity scent to leave your skin
smelling like fresh raspberries: tangy,
juicy, with a hint of green.
NEW FRESH RASPBERRY JUICY
& TANGY BODY CARE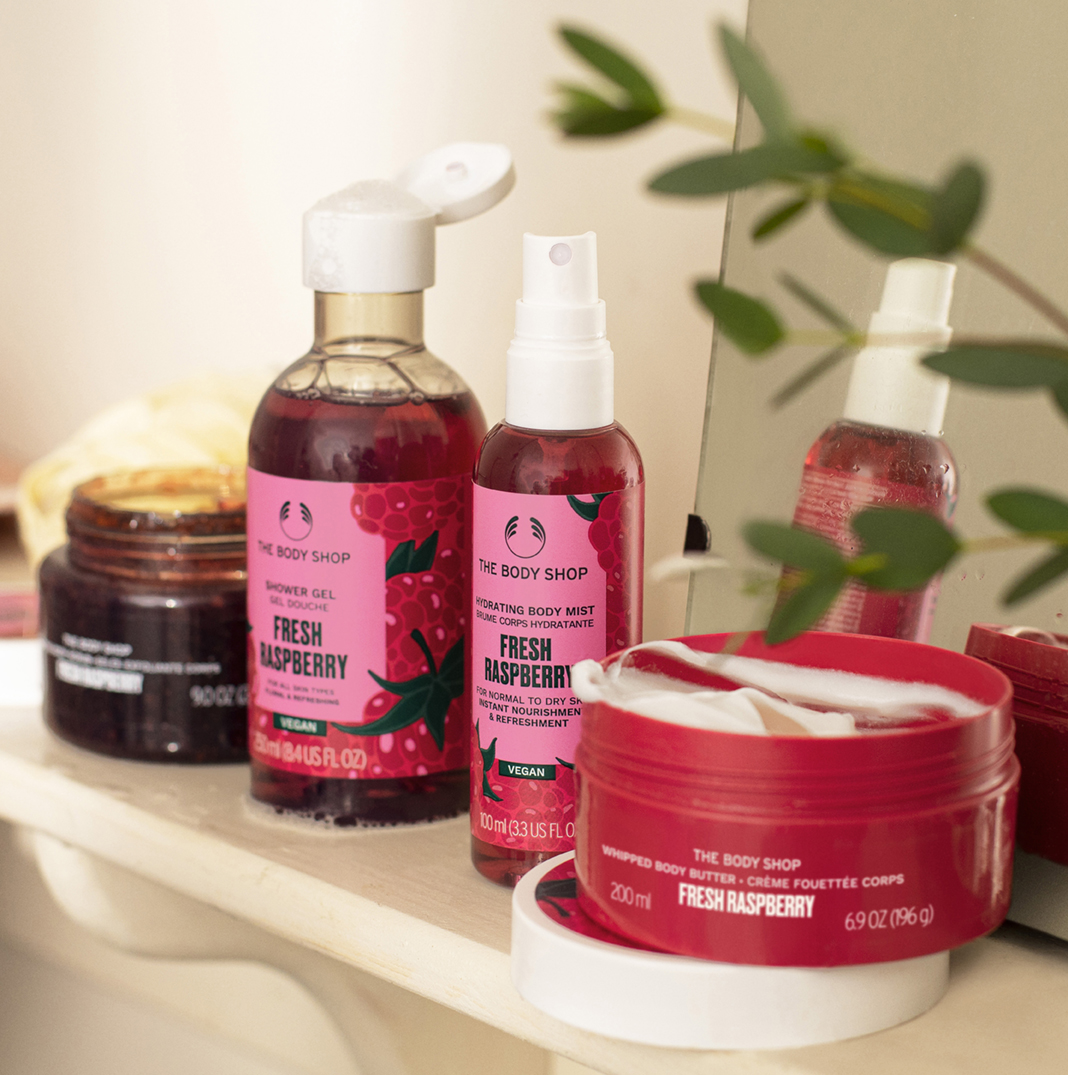 FRESH RASPBERRY WHIPPED
BODY BUTTER (200ML)
Think Body Butter but all whipped up!
This light and fluffy twist on The Body
Shop's legendary Body Butter is perfect
for warmer weather, quenching thirsty
summer skin with 72hr nourishing
moisture. For instantly softer, smoother
feeling skin with a light, non-greasy feel.
FRESH RASPBERRY HYDRATING
BODY MIST (100ML)
Freshen up instantly with a spritz of
hydration. This on-the-go hydrating Body
Mist is lightweight and fast-absorbing,
leaving skin feeling cool, refreshed and
smelling great. Enriched with raspberry
seed oil and hyaluronic acid, skin feels
nourished and soothed from dryness,
and is left with a healthy-looking glow.
FRESH RASPBERRY SHOWER
GEL (250ML)
Enriched with raspberry fruit extract, this
juicy gel lathers up to leave you feeling
cleansed, refreshed and smelling like a
punnet of fresh raspberries.
FRESH RASPBERRY
EXFOLIATING BODY SCRUB
(250ML)
Buff that beautiful body with this fruity
and pulpy scrub. Enriched with raspberry
seeds and walnut shells, it gently
exfoliates, leaving skin feeling refreshed,
soft and smooth.
NEW COOL DAISY FLORAL &
REFRESHINGLY SCENTED BODY CARE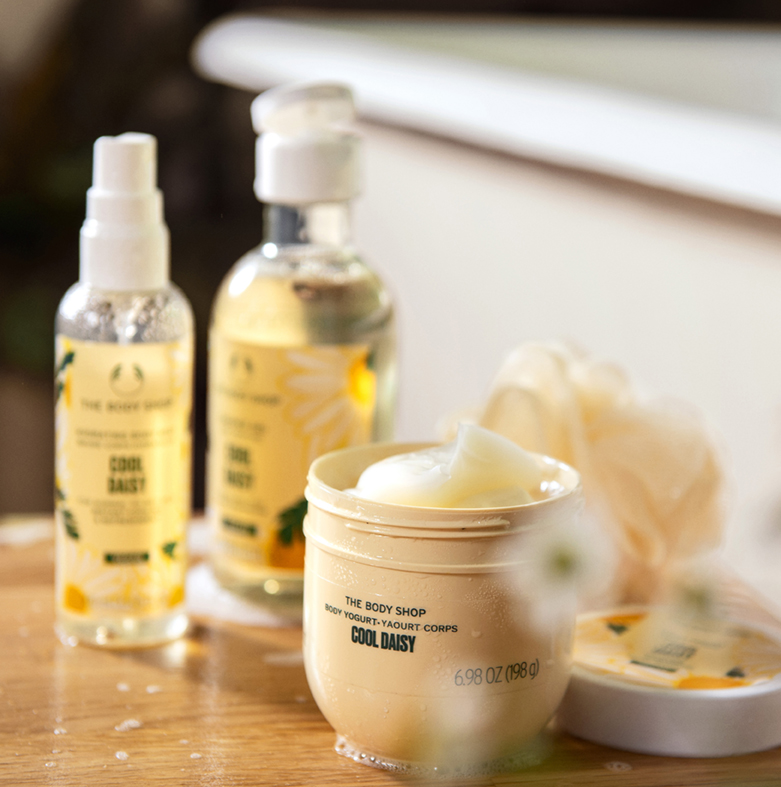 Feel fresh as a daisy (and smell like one
too) with Cool Daisy. This special edition,
vegan body care range will leave you
feeling refreshed. Perfect for hot summer
days. Enriched with daisy extract, it has
a cool and refreshing floral scent that's
blooming lovely.
COOL DAISY BODY YOGURT
(200ML)
Refresh thirsty skin with moisture using
a dollop of this cool and floral scented
Body Yogurt. It's light gel-cream texture
is instantly absorbing and hydrates skin
for 48hrs of moisture.
COOL DAISY SHOWER GEL
(250ML)
Whether you're a morning or evening
shower person – maybe both on really
sticky days, this refreshing Shower Gel is
a summer must-have. It'll leave you
feeling deliciously fresh and clean.
Add flower power to your shower.
COOL DAISY HYDRATING
BODY MIST (100ML)
Another summer must-have, this
instantly cooling mist is enriched with
daisy extract and hyaluronic acid.
Feel refreshed on the move with skin
that feels instantly hydrated, soothed
from dryness and left with a healthy looking
glow and a lovely long-lasting
floral scent.