Eva Arrighi, freelance style editor has shared with us the hottest trends for Autumn Winter 2023 and where you can find them in Silverburn.
You could easily sum up this season's trends as 'What People Actually Want'.
Finally, from the catwalks, through the editorial fashion machine and down to the high street our prayers have been answered and real clothes that real people actually wear are front and centre for a change.
So, no squeezing yourself into a bodycon outfit against your will or better judgement.
The gents who've never really bought into the sportswear trends can finally glow-up in the tailoring they've missed for years now.
You'll no longer be drowned in fabric, unless of course you choose to explore the oversize tailoring trend or those ubiquitous carpenter pants.
On the whole though it's a bumper season to consolidate your capsule wardrobe with excellent classics that, chosen wisely, you'll be sporting for years.
So far so boring? If all this talk of wardrobe staples, classics and workwear leaves you a bit nonplussed remember there are little micro trends to play with by merging your new season acquisitions.
Dark decorative flourishes and edgier transgressive themes mean you can create your own sense of drama.
Women's Trend 1 – Keeping It Real
Pared back essentials are the order of the day. Think about those classic staples but done better.
Clothes you can actually wear being celebrated by the most directional of fashion titles and fashion forward houses. Seriously, this never happens.
It's wonderful to know you're trendsetting while simultaneously wearing all the clothes you love most although this outbreak of sensibility may not last, so stock up while you can.
Denim of course continues to be a core item in almost every wardrobe, with baggier styles holding court and those Y2K maxi skirts are, trust me, better the second time around.
There is a whole lot of French Girl styling about; think chic camel trenches, cashmere, and tactile knitwear, particularly tanks and turtlenecks. The hero piece of the season though is the resurgence of the classic white shirt. It's an effortless anchor to so many outfits and worth the time to get right.
Footwear on the whole is as sensible and effortless as the rest of the look, with the comeback kid of the trainer world – Adidas Samba – getting a whole lot of love from the fashion cognoscenti.
Sensible crepe sole loafers also work fantastically well, especially with denim and tailoring. Don't forget your ballerina flats though they're the daintier style that's also back on the most fashionable feet.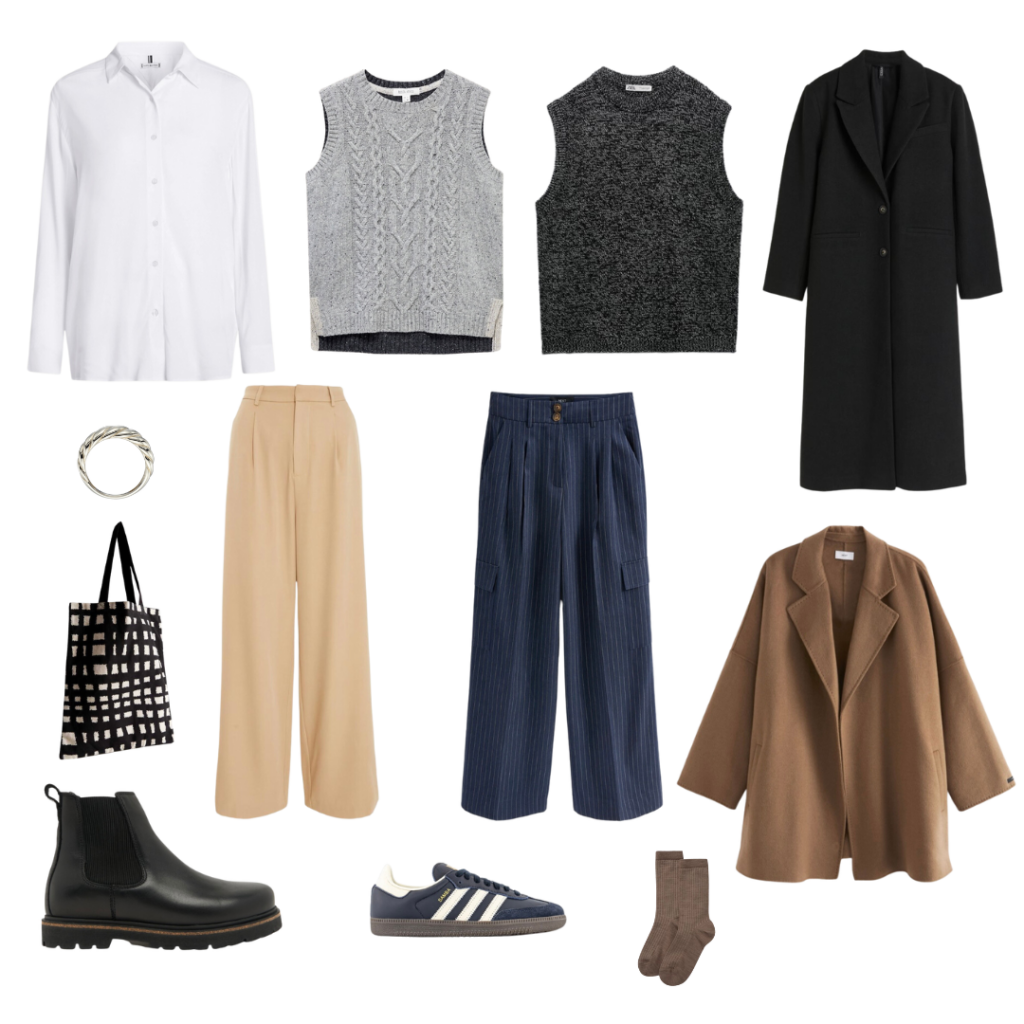 Women's Trend 2 – Mean Business
Even if you never did Business Studies and your commute to work now consists of crossing from the kitchen to the dining table, the allure of corporate structure is alive and kicking in womenswear with investment pieces to be found left, right and centre.
Masculine and muscular tailoring plays beautifully off unstructured tonal knitwear and feminine blouses. Ties vie with pussy bows and waistcoats continue to be a valuable asset in your sartorial portfolio.
A restricted colour palette of black, navy, brown, coffee, grey and putty means you can pull together a smart office friendly look in a nano-second with merger possibilities all around.
Mannish pinstripes pulled into winter florals adds up to a vintage slice of Bloomsbury set bohemia and, don't get me started on the possibilities of a tailored jacket worn over a lingerie slip and sky high heels which definitely signify your Out of Office status is well and truly on.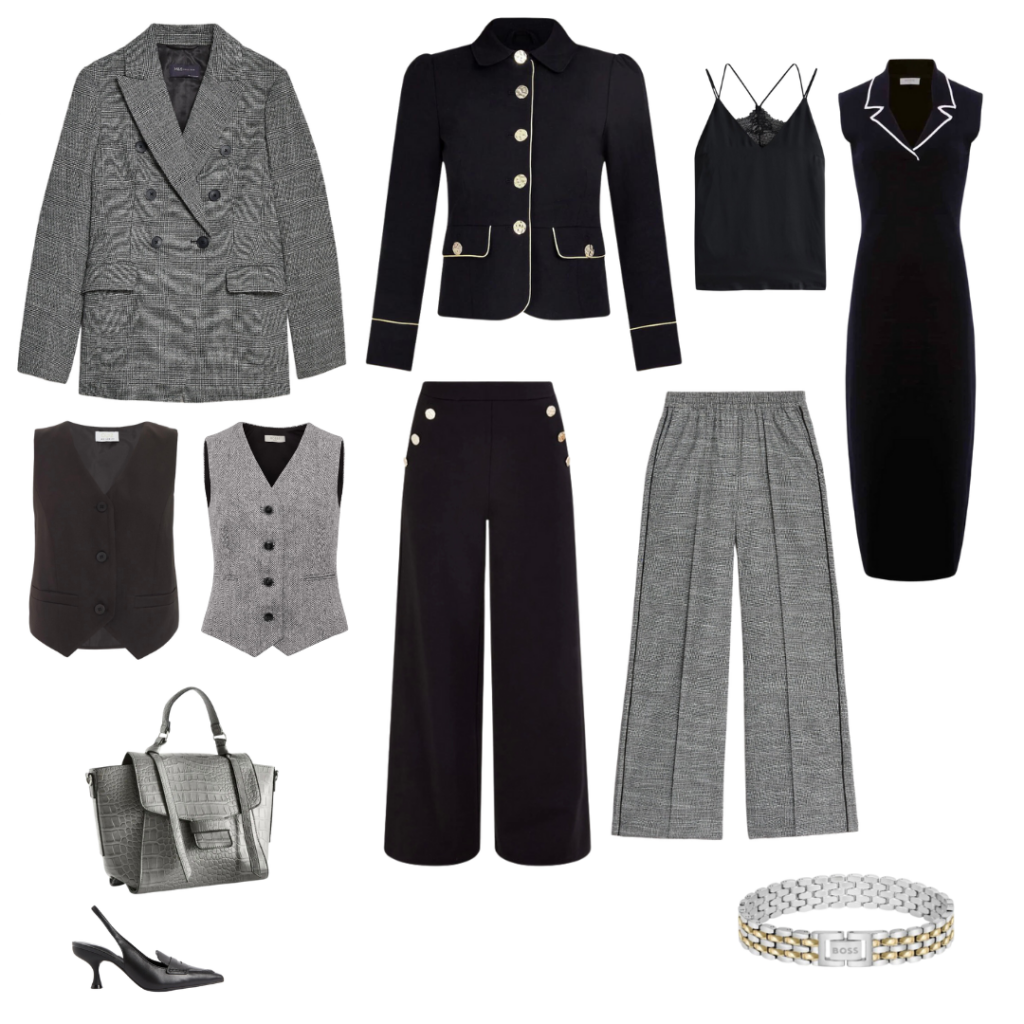 Women's Trend 3 – Winter Florals
In The Devil Wears Prada, Miranda Priestly sarcastically proclaimed, "Florals? For Spring? Groundbreaking". She may have had a point, although when it comes to winter florals, it's a more intriguing matter and one that many a designer has explored this year.
Perhaps influenced by Tim Burton's Wednesday these blooms have a decidedly goth feel, a dark romance trend that allows those with a love of print a whisper of hope in this season so heavily dominated by sobriety.
If the florals this season are decidedly tonal, at least you can pair them with folkish knitwear or sumptuous jewel-tone velvets if you need more embellishment, colour and beauty in your day.
Billowing black coats are back with a vengeful air, how dare we forget about them, and casting considerable shade across the high street. Nudge that camel coat into another trend and let your florals peak out from under the dramatic coat of the season.
Whatever you decide to pick up to augment your wardrobe this season to keep it relevant always keep Vivienne Westwood's message in mind, "Buy Less, Choose Well & Make It Last" – surely you can't go wrong with that advice.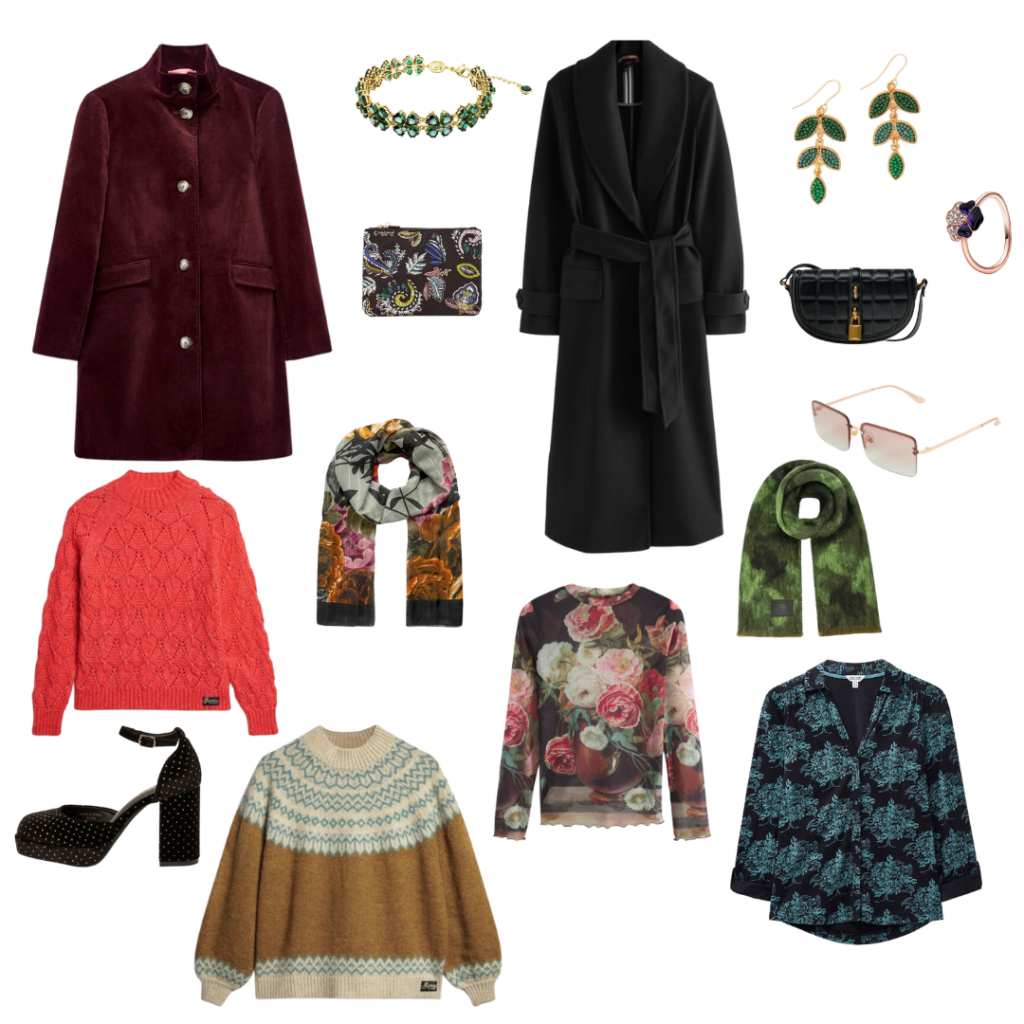 Women's Trend 4 – Rebel Alliance
It seems apt that there is something in the season for the disruptors who put two fingers up to the somewhat tame acquisitions and markets trends currently in ascendence.
Counter cultural bad taste always acts as an important counterpoint to the norms of society, and it seems apt that scarves are swathed dramatically across the body, draped and pinned in elegant reminders of the Highland rebellions.
Indeed, the spirit of that wonderful revolutionary, the late great Vivienne Westwood, is to be found all over the high street. Some are obvious, i.e. tartan, others more obscure; the harlequin and irate patterns she loved to explore.
What is evident is our appetite for transgressive pieces that pay tribute to her punk ethos is unabated judging by the volume of corsets, underwear as outerwear and lashings of faux leather on offer across the high street which only go to show that what once seemed outrageous is in time assimilated into the mainstream. A little bit of shock can indeed inspire awe. The spirit and legacy of Dame Vivienne Westwood is everywhere you look if you know where to find it.