Eva Arrighi has put together the ultimate Christmas Party outfit guide for 2022 so you can step into the New Year in style!
It has to be said that everyone's festive seasons are different but rest assured there is a look for every occasion and that's putting it mildly. Sumptuous and soft knitwear is just the ticket for throwing over your sequins, so you can be shiny, sultry and warm to boot.
A little embellishment goes a long way and there are beautiful examples of beading and embroidery in this season's collections that will be treasured for years to come.
Faux fur looks best in tonal shades and this season opt for shorter boxy shapes.
Especially sophisticated and the easiest to adapt from day to night is a monochrome palette. The ultimate in chic understated style, you can easily ramp up with the addition of sequins, velvet and silk, all fabrics that will be vying for your attention come December.
The Le Smoking tuxedo trend is truly timeless & continues to evolve with ruby reds feeling right for the festive season along with shades of ivy, emerald green and teal all options if you tend towards cooler tones.
Trousers tend to be cigarette slim or wide legged and skirts lengths run the gamut from barely there to midi, all the better for showing off this season's knee high and sometimes thigh high boots.
Pinks and lilacs are the unexpected shades that are popping up for the festive season, perfect party girl attire for nights out on the town shimmying away until the wee small hours.
Although if intimate dinner parties and an element of cocooning are more your style then some gorgeous statement gems will amp up any outfit and ensure you dazzle when you need to.
Lets face it gleaming, glowing and glittering are going to come easy this season and why not? If you can't step out in style now when can you? It's dressing up time and frankly we can't wait for the festive season to kick off.
Xmas Outfit 1 – Vintage Year
Black sequin cap headband, £19.99, Zara
Grey faux fur jacket, £79.99, Zara
Black sweater with crystal embellishment detail, £99, Hobbs
Silver pleated skirt, £139, Hobbs
Monochrome mixed cut crystal cocktail ring, £330, Swarovski
White pearl beaded mini bucket bag, £32.99, Zara
Black leather knee high pointed boots, £115, Next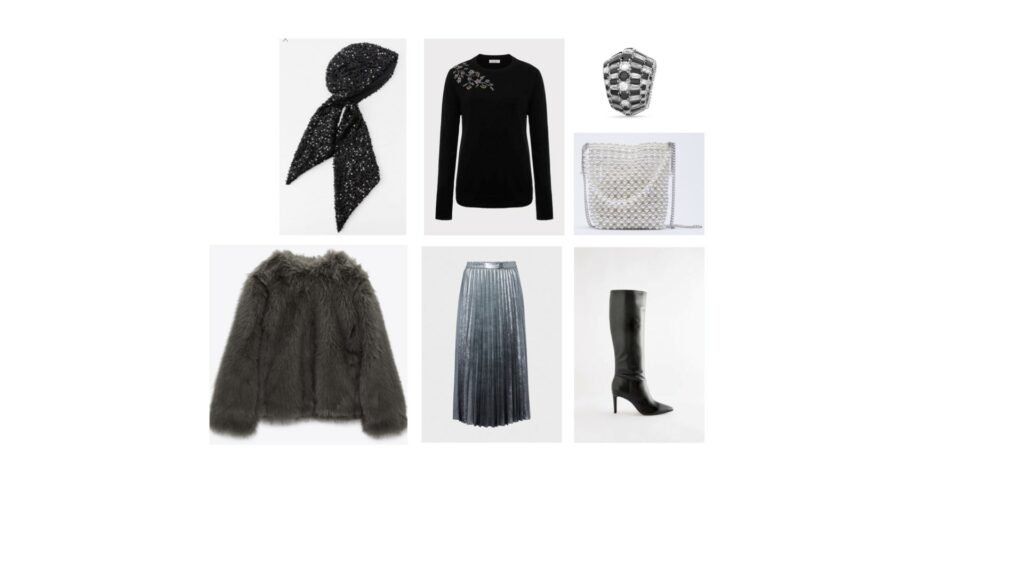 Xmas Outfit 2 – Time To Shine
Gold feather lobster clasp necklace, £22.99, Zara
Black velvet star embellished slingbacks, £79, Monsoon
Dark mole oversized polo-neck jumper, £24.99, H&M
Silver sequin pencil skirt, £149, Hobbs
Grey marbled resin hairclip, £8, Monsoon
Fawn faux fur coat, £82, Next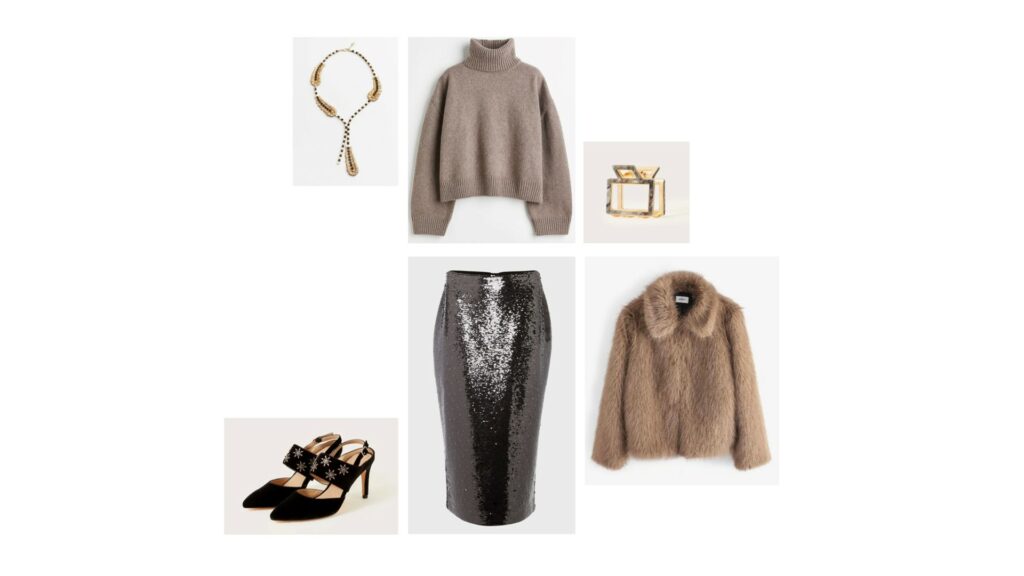 Outfit 3 – Pretty In Pink
Pink wool coat, £139.99, H&M
Pink wool beret, £17.99, Zara
Pink bring hem sequin dress, £39.99, H&M
Pink elbow length leather gloves, £49.99, Zara
Pink octagon cut crystal bracelet, £280, Swarovski
Pink platform Mary Jane shoes, £50, River Island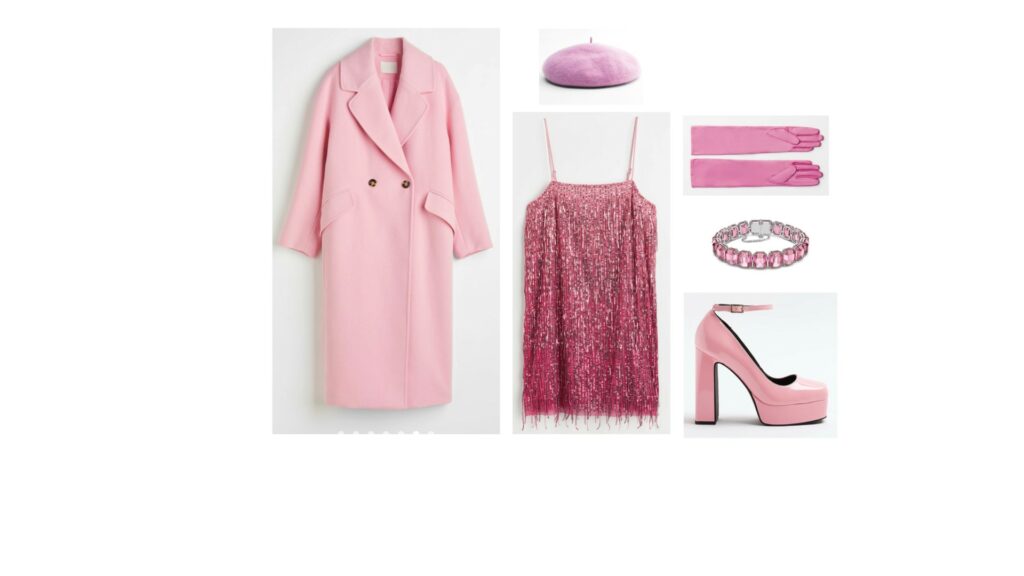 Outfit 4 – Festive Greens
Green asymmetrical design mixed cut crystal earrings, £200, Swarovski
Black velvet embellished star pouch bag, £35, Monsoon
Bottle green round neck sequin dress, £199, Hobbs
Black mix boucle double-breasted blazer, £79.99
Green and gold toned mixed cut crystal necklace, £400, Swarovski
Teal green velvet block heel sandals, £65, Monsoon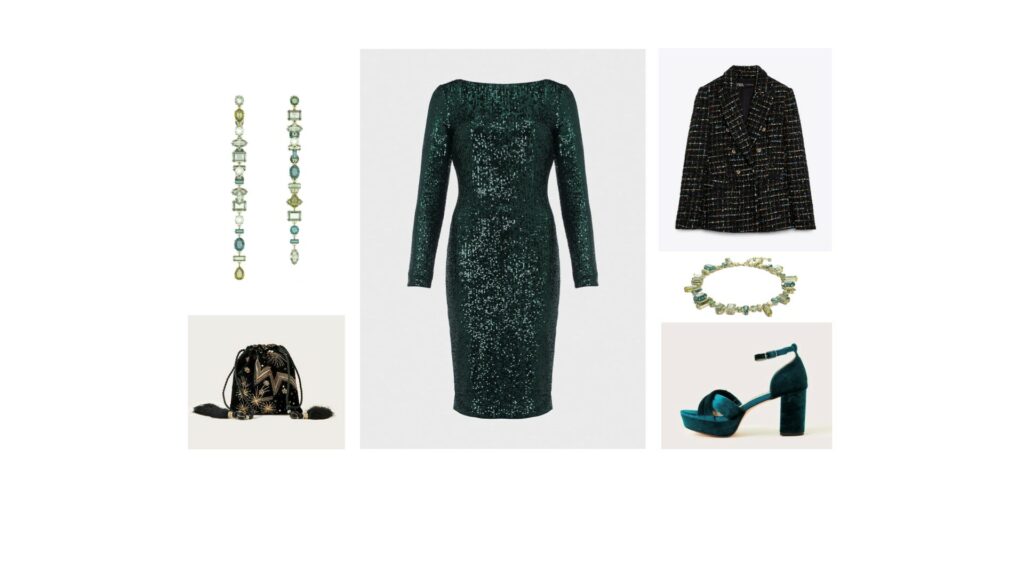 Outfit 5 – Classic & Chic
Black textured boucle double-breasted blazer, £79.99, Zara
Black leather waist belt, £99, Hobbs
Black feather cross body bag, £27, River Island
Ivory satin batwing sleeve blouse, £24.99, H&M
Black velvet side stripe wide leg trousers, £69, Marks & Spencer
Black velvet and flower sequin detail scarf, £12.99, Zara
Crystal star drop earrings, £135, Swarovski
Embellished vinyl and diamante slingback sandals, £59.99, Zara