Style editor Eva Arrighi has put together her top men's fashion looks for this autumn. Take a look at the mix of staple pieces and affordable accessories!
Men's Trend 1: Grunge-core
Please let me set the scene for you. Kurt Cobain is electrifying the world with Nirvana, Seattle is the new epicentre of musical genius and Johnny Depp is in his dating Kate Moss/trashing fancy hotels stage. To paraphrase one of my other musical heroes Jarvis Cocker – This Is Grungecore.
Worn in denim, plaid, cargo pants and a Nineties aesthetic that smacks of subversion and non-conformist energy is the polar opposite of the other main menswear trend coming to the fore but does share a lot of territory with the streetwear aesthetic we've become used to in menswear for a few seasons now.
This is the bad boy aesthetic in which dude skirts have gained real traction. As Scots we're already au fait with wearing kilts, and it looks like the rest of the world is not far from embracing their delights, but alas there are still scarce examples on the high street. A flannel shirt tied around the waist will have to do for now.
Nostalgia for the Pacific Northwest Nineties aesthetic encompasses worn out finishes, chunky boots, oversized overshirts, rugged trucker jackets and lots of jewellery.
If it looks like you just layered up what was on your floor where you left it last night, congrats that it not only smells like teen spirt, it looks the part too.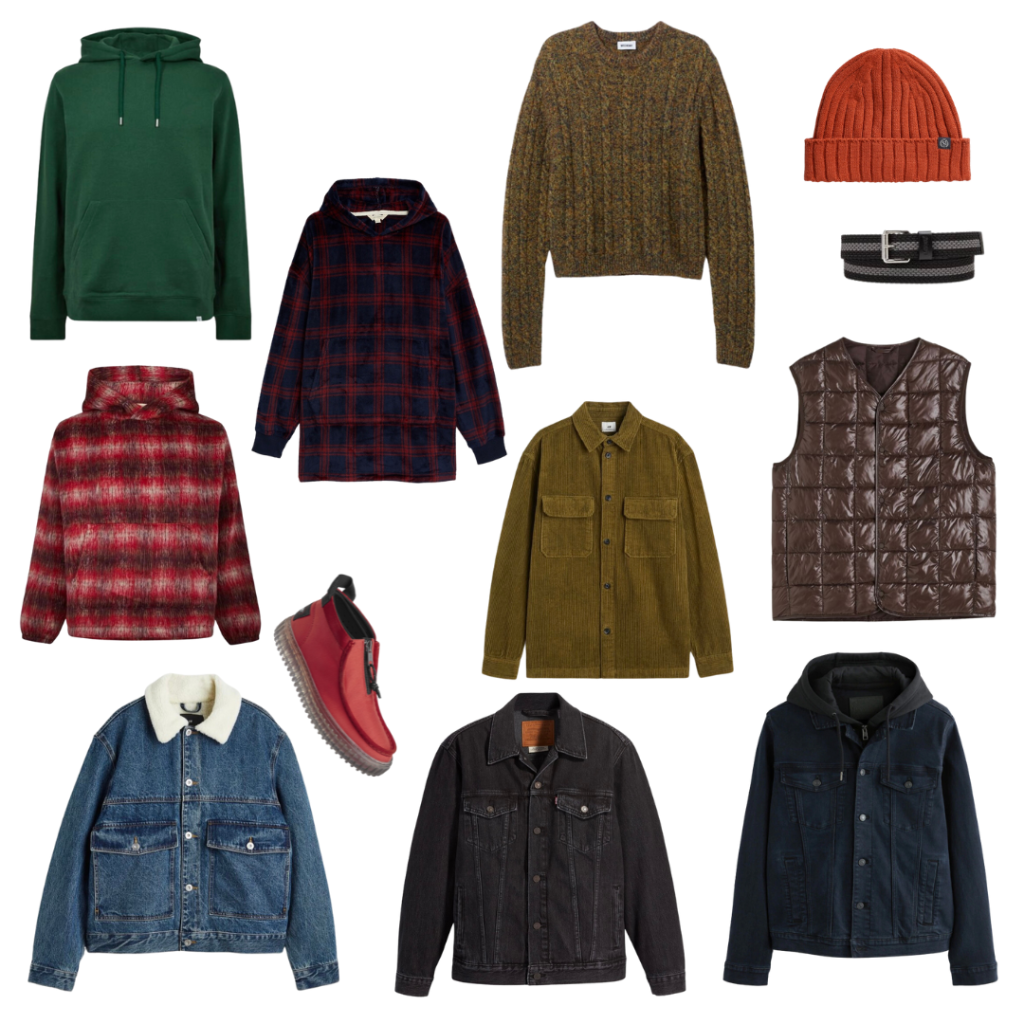 Men's Trends 2: Suits You
Are you inspired by immaculate sartorial decisions, or do you prefer deconstructed tailoring? Whichever one suits you best, you can have your pick, as tailoring and suiting are back at the centre of men's fashion after an extended, and some would say, an unwelcome hiatus.
So many AW23 catwalks featured smartly dressed men and it quickly became evident that designers were harking back to a time before the enveloping trend for smart casual and athleisure took over the world of menswear. Like all good things you forget about, it's exciting to rediscover and explore again. The biggest trend is in overcoats, an item that seemed close to extinction but has been brought back to life just in time for winter. Spice tones, browns and burgundy are the key shades to look out for in what are exhilarating times for smartly dressed men to cast off their parkas, cargos, joggers and polo shirts in the biggest glow up of the year.